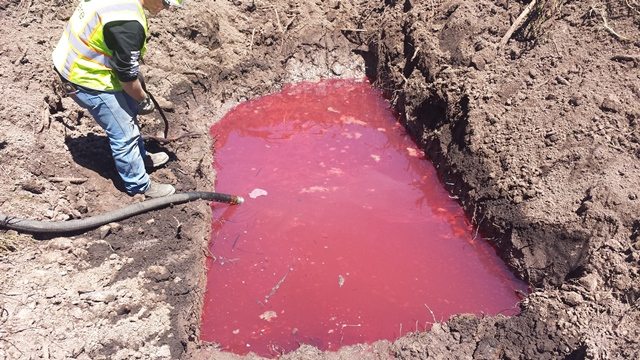 Enviro Care has served as prime contractor and subcontractor on a variety of hazardous waste-related projects and was awarded the state and regional SBA subcontractor of the year award in 2001. The following is representative of the various types of projects in which Enviro Care has provided service. Additional, detailed information pertaining to these and other individual projects is available upon request.
Acids and Bases
Tank Remediation - Project required Level-A entry of sludge-thickening tank contaminated with mercury, cyanides, and acids.
Ground Water - Characterized soil and ground water contamination, migration potential, and feasible cleanup options.
Test Program - Designed and implemented sampling plans for wide range of contaminates, including VOC metals, PCBs, acids, and herbicides. Developed and implemented, EPA-approved sampling schemes on site-by-site basis.
Waste Water Treatment - Removed existing W.W.T.S. Remediated soil contamination, installed monitoring wells, and installed new Waste Water Treatment System. Treated and disposed of 2300 tons of debris (F006/F0569)
Transportation - Managed numerous transportation and disposal projects under DRMS, EPA, Bureau of Reclamation, Drug Enforcement Agency (DEA), Hill Air Force Base, Tooele Army Depot, Dugway Proving Grounds, state and private industry.
Sulfuric Acid Tank Remediation - Managed the neutralization and cleaning on a 3 million gallon Sulfuric Acid Tanks. Procedures included formulation of neutralization process, air monitoring, demolition and scheduling transportation.
Unidentified Drummed Waste - Managed containerized waste cleanup of approximately 2,000 drums of unidentified waste. This complex project included implementation of a sampling plan and identification of the unknown materials. Prepared segregation and disposal matrix, quality control management plan, transportation, and disposal

The photo below shows a large sulfuric acid spill, which required the use of Level "A" entry to stop the leak both in the feed lines and storage tanks. It ultimately required:
Neutralization of acids
Transportation of liquid
Soil treatment and removal
Site screening and characterization
A sulfuric acid spill — thousands of gallons of acid reacting with lime.
Enviro Care completed all phases of clean up and removal.

Crude Oil Spill
A Crude oil spill on the interstate that required remediation, removal, and repair of the highway asphalt.

Sodium Azide Spill
A truck rollover involving a load of sodium azide generated toxic fumes and fire, forcing closure of a section of I-15 and evacuation of a small, rural Utah town.

Diesel Spill
Diesel contamination of highway, wetlands, and ponds.

Chemical Discharges
The following is an example of Enviro Care's waterway response capability for chemical discharges. Back-up flow control pumps are shown here; up-stream absorbent booms and pads are located in the impound of the underflow dam; a 50,000 gpm underflow dam with overflow protection designed, constructed and maintained by Enviro Care and down-stream absorbent systems are in place to capture entrained/emulsified petroleum product.
Enviro Care's response capabilities include waterway chemical discharges.