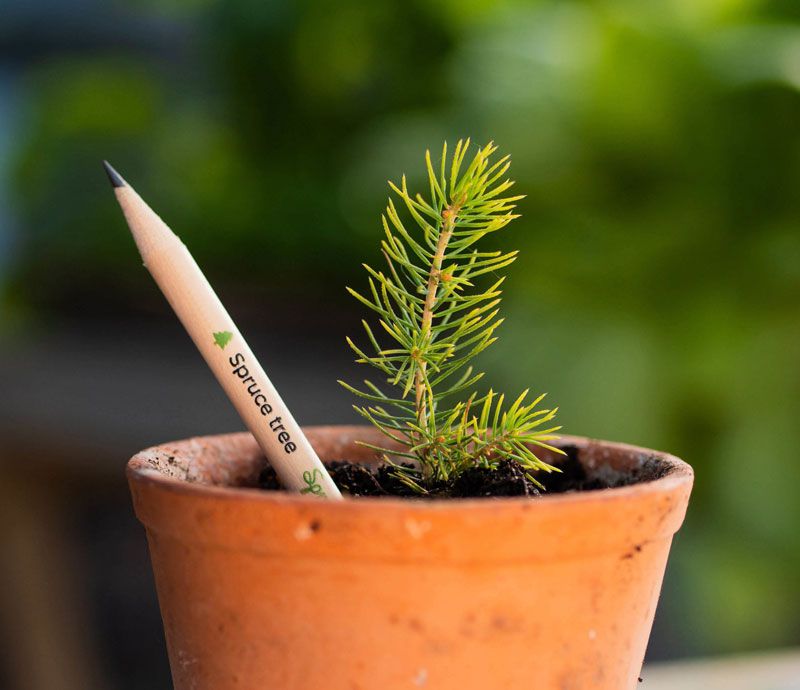 9 Must-have Eco-Friendly Workplace Products To Go Green
Following are 9 products for the workplace that are eco-friendly and help you reduce and manage waste. Some are inexpensive, while others are a considerable investment. However, all of them support workplace sustainability and functionality.
1. Eco-friendly Pen and Pencils
In the "Environmental Consumer Handbook" published in 1990, the EPA estimated that 1.6 billion disposable pens are produced each year. Thirty years later, you can imagine how bad the situation has become.
To reduce waste at the workplace, switch to sustainable pen and pencil options. Try eco-friendly pens made from kraft paper. Brands like PaperPen and Starsouce manufacture pens with 70% less plastic which perform just as well as normal pens and are refillable.
And they don't cost extra (approx $9.99 for a pack of 10) so you don't have to think twice to make the switch.
Also, consider this innovative product: the plantable sprout pencil. After finishing the pencil, stick it into a pot. A plant will germinate from the seed capsule on the top of the pencil. These pencils are 100% natural and cost $11.80 for a set of 5.
2. Refurbished computers and equipment
Refurbished computers sell at a lower price for the following reasons:
It had a manufacturing defect, but the seller fixed it.
The original buyer returned the product because it had a minor defect.
The buyer opened the package but didn't want the product, so they returned it.
Often, refurbished products only have a physical defect like a scratch or two. In terms of functionality, they are brand new.
By purchasing refurbished equipment:
You save 20-30% on the original retail cost.
You increase the lifecycle of an electronic product that otherwise would have been discarded.
Beware: all refurbished products are not made equal. The quality of the refurbished product is graded depending on the number of defects. Read this guide on buying refurbished computers so you won't waste your money by buying an inferior product.
3. Green Cleaning Products
First, let's understand the medical and environmental impact of cleaning products.
Chemicals found in cleaning products like alkylphenol ethoxylates, triclosan, phosphates, etc., end up in rivers and streams and cause a host of problems such as:
Death of aquatic life
Overgrowth of algae which negatively affects the lifecycle of higher life forms.
Intoxication of aquatic life, leading to transfer of toxins to further up the food chain through biomagnification
For more information, read this EPA guide before purchasing cleaning products for your workplace.
By using green cleaning products, you promote:
Use of biodegradable, non-toxic products
Sustainable packaging
Healthier wildlife.
Ready to make the switch? This guide will help you shop for green cleaning products that contribute to workplace sustainability.
4. Stapleless Stapler
Stapleless staplers cut a tiny slab into the paper and tuck it into a slit. The hold is so strong that it only comes apart if you intentionally apply force with both of your hands. Different models can fasten up to 5 or 10 sheets.
If you and your team staple 2-3 pieces of paper several times a day, imagine how many staples can you save from going into the bin and there's virtually no price difference between normal staplers and stapleless staplers.
5. Bottleless Water Coolers
Traditional water coolers have a 5-gallon water bottle on top of them. These bottles are dumped in landfills or end up in mismanaged waste at the end of their lifecycle.
Bottleless water coolers, on the other hand, draw water from existing water lines. That means you always get fresh water from the tap.
Bottleless water coolers support the go green at the workplace initiative by:
Eliminating the need for plastic bottles
Preventing wastage of leftover water
Saving your team from the plastic that leaches into the water stored in plastic containers
Brands like Bevi manufacture bottleless coolers that can dispense both normal and fizzy water infused with natural fruit essences and contain electrolytes or caffeine. A good replacement for sugary drinks!
6. Terracycle Box
What do you do with your non-recyclable waste? Like most people, you toss it in the trash bin. If you don't want to see these products end up in the landfill, use a Terracycle box.
Simply order one of their boxes, fill it with non-recyclable waste, and ship the box back to Terracycle. Their team will sort the waste and process it into raw materials. The Terracycle box works hard to help people and businesses manage waste and increase workplace sustainability.
Terracycle Boxes come in three sizes:
Small ($142; 11" x 11" x 20")
Medium ($206; 11" x 11" x 40")
Large ($307; 15" x 15" x 37")
7. Duplex Printer
Duplex printers reduce waste at the workplace by cutting your paper usage in half. Also, you save money on buying new paper, which will offset the high price of a high-quality duplex printer over the long term.
You must be familiar with the scenario where the last few lines of a document exceed the page limit and the printer uses another piece of paper to print the remaining few words. What a waste!
Here's a guide that will help you choose the right duplex printer.
To increase workplace sustainability, paid software like GreenPrint and ecoPrint2 can decrease your paper and ink usage. GreenPrint claims to save you 30% of the cost per print. This means every fourth printout is almost free!
8. Trash Compactor
Every green workplace should strongly consider investing in a commercial trash compactor. It reduces the space taken up by the garbage in the bin by a third by tightly compressing waste into cuboids.
Trash compactors come in various shapes and sizes to suit every business's need. A trash compactor:
Reduces the number of trips to the disposal site
Gets you concessions from your waste-management company
Reduces your carbon footprint
Reduces the space taken up by waste in landfills
Here's a guide on buying a trash compactor.
9. Solar Bag
Solar bags are practical options since they can charge a smartphone in about 3 hours. You can purchase a solar bag for yourself or give it as a gift to your employees. Some solar bags come with a battery to store the power, while other lightweight options charge phones only in sunlight. They can be used for daily commutes and weekend hikes.
Read this buying guide to find out which solar bag will be best for you.
Go Green with a Waste Audit
Enviro Care can conduct a waste audit of your business. We can reduce the cost of storing and transporting your waste and suggest ways to reduce your business's environmental impact.
We're committed to the sustainability of the environment and we do this by following the best waste management practices.
If you want to work with a waste management company or want a waste audit of your business, contact us today!